Illinois Overview

By C.E. Petit, Esq.

Illinois calls itself a "Frye state," but Illinois state courts vary their reasoning among the Frye standard ("general and common use," People v. Jennings, 96 N.E. 1077 (Ill. 1911)), the text of the Federal Rules of Evidence, and a reliability inquiry (People v. Basler, 740 N.E.2d 1 (Ill. 2000)). It is probably more accurate to call Illinois a "Frye plus reliability" state, but there are several ways to demonstrate "reliability." The Illinois Supreme Court has not made an explicit judgment on how important "reliability" is, nor what that means, post-Daubert. Instead, admission of opinion evidence seems to be divided into two classes:

| | |
| --- | --- |
| | For techniques (bases for an opinion) that have been "accepted" and are generally considered "not novel," the individual offering the opinion must adhere to the technique. Basler, 740 N.E.2d at 4. A technique is "not novel" if Illinois appellate courts have previously allowed admission of opinions based on that technique. Id.; Donaldson v. Central Illinois Public Service Co., 767 N.E.2d 314, 324-27 (Ill. 2002). Reliability can be challenged by a party objecting to admission of opinion evidence, but the challenge is ordinarily limited to the facts. Basler, 740 N.E.2d at 5; Donaldson, 767 N.E.2d at 324. |
| | Techniques that are "novel" must be examined in a "Frye hearing." Novel techniques are those that are "'original or striking' or do[] 'not resemble something formerly known or used.'" Donaldson, 767 N.E.2d at 324. A technique that is "sufficiently established to have gained general acceptance in the particular field in which it belongs" is not novel. Id. This does not require demonstration of unanimous, consensus, or even majority acceptance. Id. |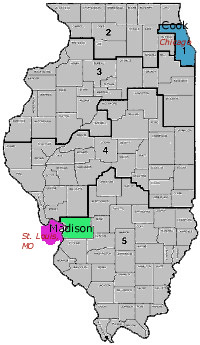 Illinois has a three-tiered court system. The trial ("circuit") courts cover from one to three counties each, with judges maintaining chambers and seats in most mid-sized (25,000 or so) and above towns and cities. The intermediate appeals courts are divided into five districts:

Cook County
Far northern Illinois outside Cook County
North-central Illinois
Central Illinois, including the state capital in Springfield
Southern Illinois, including the Illinois suburbs of St. Louis and the increasingly notorious Madison County

Decisions from one appellate district are not binding in another appellate district, except (perhaps) in showing that a particular technique is "not novel" or that a particular expert is "well qualified." The Illinois Supreme Court has a system of "leaves to appeal" very similar to the U.S. Supreme Court's certiorari system for controlling its docket; it may also take direct appeals in certain circumstances.

When discussing opinion evidence, case citation in Illinois appellate decisions tends to be extremely sparse, with two exceptions: determining whether a technique is "novel" and determining whether a particular expert is qualified. Otherwise, the Illinois courts tend to pay close attention to the text of the rules of evidence and to longstanding principles of evidence law. This even extends to denying that federal interpretations of the Federal Rules of Evidence bind Illinois courts in their interpretations, even though the Federal Rules of Evidence have been explicitly adopted in Illinois. See, e.g., People v. Miller, 670 N.E.2d 721, 731 & n.3 (Ill. 1996).